JOIN WOMEN OF THE VINE & SPIRITS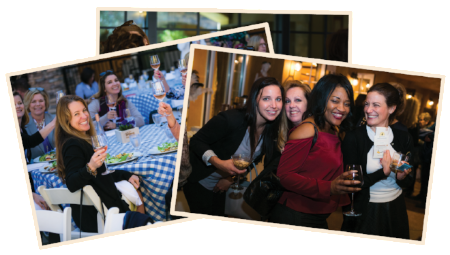 When you join Women of the Vine & Spirits not only do you join a powerful and growing community in the alcohol beverage industry you also
gain access to a wealth of opportunity and possibility.
Whether you're a veteran or just getting started you'll find the resources and people you need to advance and grow. You'll find the resources and support to combat an array of workplace issues and obstacles and you'll discover that together, members are changing the face of the industry worldwide by collectively advocating for the industry at large to support gender-diverse teams and talent development.
An investment in Women of the Vine & Spirits membership provides a range of benefits that fuels personal and professional development while driving business growth.  Start expanding your knowledge, take charge of your career path, create a better resume, increase your network, become a mentor, stay inspired and motivated.
Together we can change the face of the alcohol beverage industry.
Are you ready?
Join Women of the Vine & Spirits Today!
Women of the Vine & Spirits Expands into Europe - View Advisory Board
Individual Membership

$150 USD/Year

Annual dues / Membership renewal date is one year from day of signup

Individual Member Benefits:

Individual personal profile
Members are eligible for advance tickets for the Annual Women of the Vine & Spirits Global Symposium*
     * Limited number of tickets available
     * Sold on first-come, first-served basis
     * Membership does not guarantee a ticket 
Start or contribute to a discussion forum
Discount ticket price for regional events
Discount ticket price or free access to online events including webinars and workshops
Discount ticket price for on-demand videos of Annual Global Symposium 
Network by contacting members directly through membership directory
Post to and view Job Board
Members-only Newsletter
Members-only Book Club 
Resource Downloads 

Have a Question or Need Assistance?

Please contact us 1-888-750-1863 or send an email, info@womenofthevine.com

 

Corporate Membership

Various Levels Available

For Corporate Membership Information
and Pricing: 

Contact Deborah Brenner, brenner@womenofthevine.com 
or call (845) 365 - 2838

To view our corporate members  - click here

Corporate Member Benefits:

Becoming a Women of the Vine & Spirits Corporate Member
signals to employees, potential employees and the industry at large that your organization supports gender diverse leadership teams and talent development.

Reputation

Role Models

Retention

Recruitment

Regional Expansion

Revenue

Membership Benefits for All Employees*

Industry Recognition

Diversity & Inclusion

Company Promotion

Networking

Participation at Annual Global Symposium

*Bronze Level and above

Is your company a
Corporate Member?

To view our corporate members  - click here

To access your complimentary
individual employee membership,
CONTACT US.

---

"I applaud the mentoring, support and
foundational tools Deborah Brenner and
Women of the Vine & Spirits provides to
women across our industry, be it sales,
marketing, or winemaking. The alliance is
providing an opportunity for women in our industry to come together, support one another and nurture young talent."

- Gina Gallo, Senior Director of Winemaking
  E. & J. Gallo Winery

Read more Member Testimonials like this one, Here.